Sports Trend Brand "STARTER" Receives US$30 Million in Series B Financing to Accelerate Its Deployment in the Chinese Market
the global sports trend brand STARTER recently completed 30 million U.S. dollars in Series B financing, led by M31 Capital, followed by Disu Fashion, Yunjiu Capital, and old shareholders Sequoia Capital, etc. continue to increase, Qingtong Capital served as the exclusive financial advisor . After this round of financing, STARTER will accelerate brand promotion in the Greater China market, online and offline business layout and the establishment of a new retail system.
STARTER was born in Connecticut, USA in 1971. It is positioned as a full-category sports trend brand with pure American street and American sports pedigree. The current global annual sales exceed 1 billion US dollars. STARTER focuses on pioneering spirit, American sports, hip-hop and street culture. Since 1976, it has successively won the authorization of many professional sports leagues including NBA, MLB, NFL, NHL, and became the first batch of production and sales with American sports league in the world. And the clothing brand of the team logo.
After sportswear, STARTER gradually integrated music, trends and street culture, and successively reached cooperation with global trend units such as SUPREME, A BATHING APE, KITH, UNDEFEATED, ACNE STUDIOS, etc. In 2011, STARTER launched the high-end street fashion branch STARTER BLACK LABEL. Based on the design concept of integrating American sports and trend culture, it developed classics such as "SATIN JACKE" (satin jacket) and "HALF-ZIP JACKET" (half-open jacket). Single product.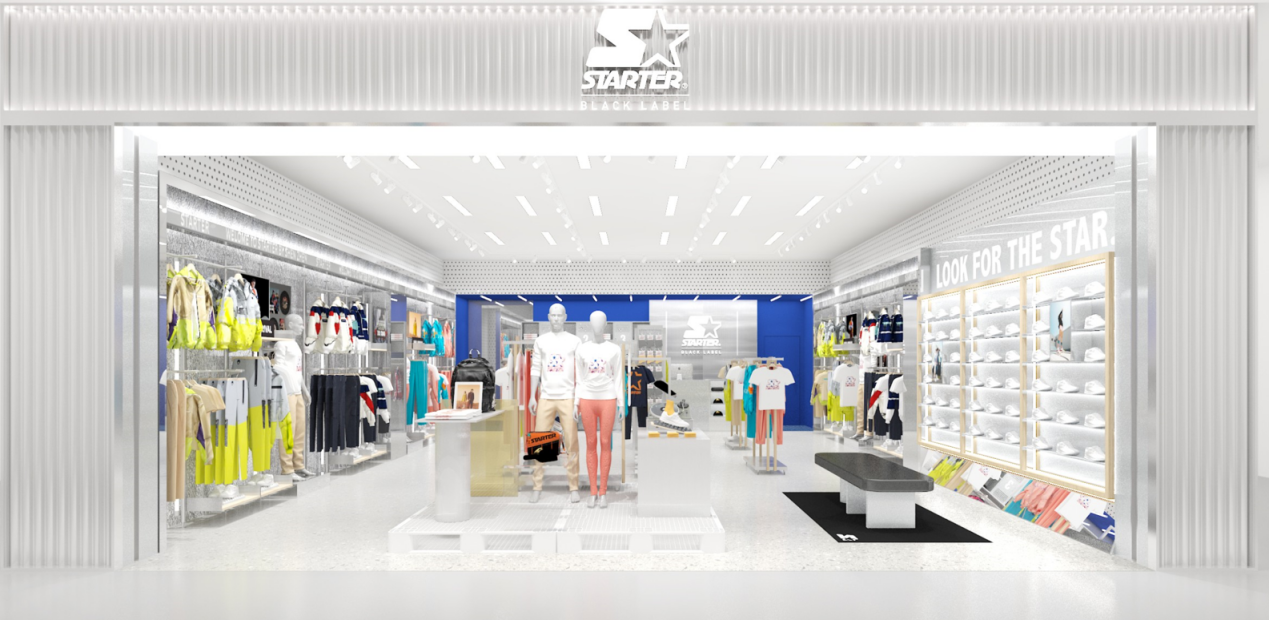 STARTER BLACK LABEL is about to launch V3.0 store image
According to Euromonitor data, the size of China's sports shoes and apparel market in 2019 was about 46 billion U.S. dollars, a year-on-year increase of 12.6%, while my country's per capita sports shoes and apparel consumption was only 1/12 of that of the United States, and there is a large room for growth. With the rise of the domestic generation Z consumer groups, sports fashion clothing has become a trend. According to a report released by alimama insight, the absolute value of GMV contributed by Gen Z groups in the trendy market in 2019 has increased by 433% year-on-year.
In 2019, STARTER officially launched its business in China. The product design focused on the classic "New OG" of American sports and the "Hi Street" with creative trend elements as the main line, and specially developed shoe SKUs for the Chinese market. The product display adopts the "product content" approach of different story theme packages to convey the brand's value proposition of "vanguard spirit and individual expression" to the target audience.
It is worth noting that after STARTER entered the Chinese market, it has reached cooperation with dozens of IP brands and famous designers such as Yonehara Kangzheng, POP MART, ERIC SO, RICK&MORTY, NYCHOS, and launched a limited number of joint products in China.

STARTER BLACK LABEL Autumn/Winter 2020 apparel product theme "WILD PLANET"
In terms of market operations, the STARTER China team stated: "During the epidemic this year, brand online sales have doubled year-on-year. STARTER pays attention to in-depth consumer insights and omni-channel reach, and has built a private domain traffic pool of millions of fans. Trendy play communities throughout the country have cultivated brand intimacy, and have successively launched live broadcast cooperation with head anchors. Next, they will further improve the KOL/KOC communication matrix and enhance the efficiency of brand distribution."
Regarding this investment, Zou Yingyi, Executive Director of M31 Capital, said: "Under the trend of global sports trends, STARTER, as a global brand with rich cultural connotations, builds deep links with Chinese consumers through multiple channels online and offline. We are redefining the strong personality and life attitude of Generation Z. We highly recognize the STARTER China team and believe that the company can continue to break through the original boundaries in products, marketing, channels, and supply chains, and bring more to the industry Surprise."

Shen Zhichun, Investment Director of Disu Fashion, said: "Sportswear is an important subdivision track in the textile industry, and as the people's awareness and practice of the importance of sports fitness for lifestyles deepen, the industry is booming. . The privilege to participate in this round of financing is mainly due to STARTER's long brand history, unique brand genes, and the perfect combination of sports and fashion brand momentum. At the same time, we have seen that the STARTER brand has formed a team with a deep industry background and built a fruitful and A dynamic organization has the core ability to open up the market structure."

Shen Wenjie, Executive Director of Cloud Nine Capital, said: "STARTER is a sports trend brand with a deep accumulation and has strong brand potential. With the continuous development of rap, electronic music, street dance, street sports and other cultures, China's trend market is growing rapidly. The trendy sportswear has become more and more extensive choice, creating a huge development space for STARTER. The company's marketing team has rich experience and successful resumes in the brand and retail fields, and has a profound and unique understanding of trends and sports. We believe STARTER can burst energy in their hands and succeed."